Chromecast beating Apple TV
Streaming media devices like the Chromecast have become more popular over the past year.  We have seen Amazon release two devices with the Fire TV and the Fire TV Stick, we have also seen Roku release their a dongle called the Roku Streaming Stick.  But what has made the Chromecast so popular?  Two things, ease of use, and price.  Coming in at only $35, it basically destroys the competition when it comes to functionality per dollar.  The Chromecast allows you to stream media, mirror your phone or desktop screens, and even play some video games.
With Apple being so dominant with iTunes, it's very surprising to see that they are not putting more effort into their AppleTV.  Last year, Apple held 26% of the streaming media device market share.  Currently they are down to 17%.  While Apple lost market share, the Chromecast has been able to grab 20% and Amazon's Fire Tv holds 10%.  What is most impressive about these numbers is how popular the Fire TV device has become.  The Fire TV was only recently released in April of this year, this means that in 8 short months, Amazon was able to grab 10% of the total market share.  Not bad for a device that typically sells for $99.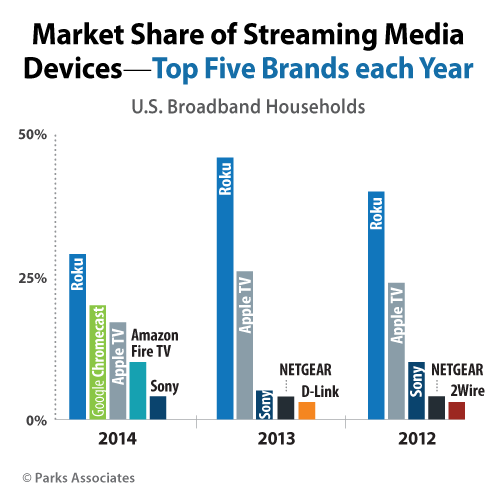 According to Parks Associates, only 10 percent of U.S. broadband households have purchased a streaming media player device in the first three quarters of 2014.  This number matches the amount sold in 2013.  Parks Associates estimates that by the end of 2015, more than 25 percent of U.S. households will own a streaming media device and by 2017, nearly 50% will.
What does this all mean for Chromecast owners?  Well basically it's good news.  The more popular the Chromecast gets, the more companies will begin to support it (here's looking at you NFL).  We have already seen ABC release a few apps that support Chromecast.    With all of the streaming media devices being sold these days, you have to imagine that cable companies are shaking in their boots!  You have to imagine that eventually cable and satellite companies will be a thing of the past and we all will just stream TV to our Chromecast-like devices!
Source: Parks Associates