Chromecast Live TV – How to do it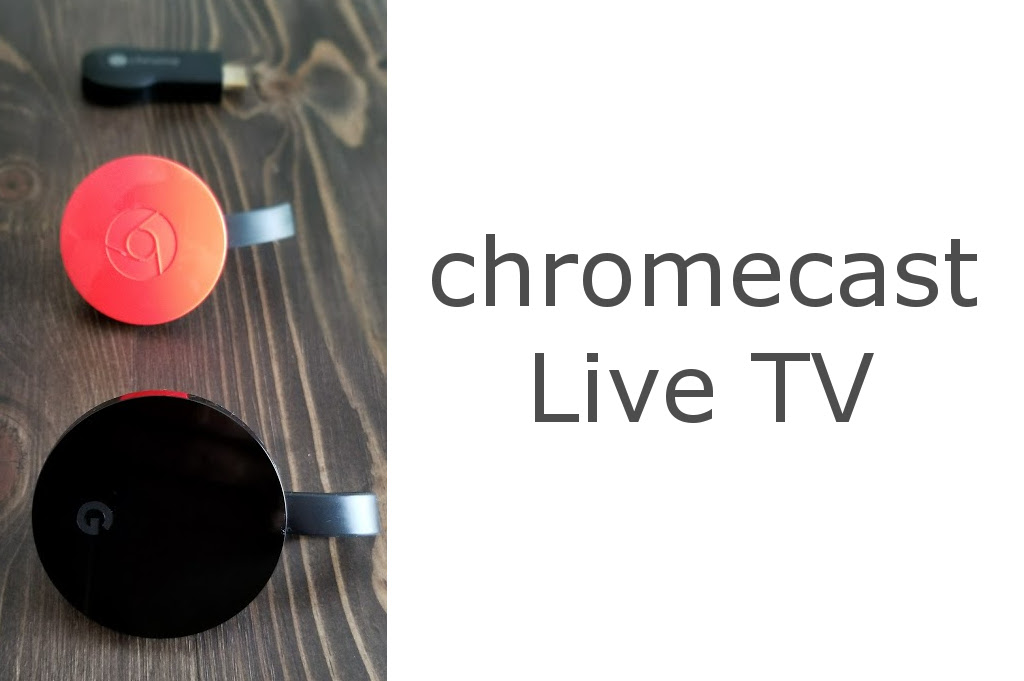 Chromecast Live TV Services
In this day and age, more and more people are looking to save money or cut the chord when it comes to watching cable TV.  As internet speeds become faster, cable providers and some unexpected competitors are beginning to offer live TV streamed over the internet.  Since the Chromecast has become so popular and is great at streaming media, it's no surprise that these companies have begun to offer the ability Chromecast Live TV.  It won't be long until the majority of people are using a streaming media device like the Chromecast or FireTV to watch live television.
Below are just a few Apps that are available right now that can Chromecast live TV.
Sling TV
SlingTV, which is owned by Dish Network, was the first company to offer a live TV service that supports the Chromecast.  SlingTV launched back in February of 2015 making it over 2 years old.  This Chromecast live TV service offers at least three different program options that include anywhere between 25-100+ channels.  Packages start at $20 a month making it very affordable.  If you are skeptical about this service, you can always sign up for a free 7 day trial.
Cost: Starts at $20
Availability: United States
Notes: Offers cloud DVR, You can rent movies, Includes NFL Network with blue service subscription
You can check out Sling TV's channel package and sign up for a free trial here.
DirecTV Now
AT&T is one of the only major television service providers that offers an internet only TV service.  DirecTV Now Packages start at $35 a month and offer about 60 channels.  For those of you interested in this Chromecast live TV service, you will need to cast from an Android device.  Unfortunately, iOS users will not be able to Chromecast live TV with this service.  However, you can use the DirecTV Now app on your iPad or iPhone to watch live TV.  You can also follow our Chromecast Amazon Prime video guide to cast from your computer.  DirecTV Now doesn't require any contract and the largest package includes over 120 channels.  A seven day free trial is also available.
Cost: Starts at $35
Availability: United States
Notes: Only 2 users can stream at a time, No DVR service available, No Sunday Ticket option.
Click here to sign up for DirecTV and compare TV packages.
PlayStation Vue
Out of all of the services we've mentioned, this one surprises us the most.  Sony has decided to get in to the television game by launching the PlayStation Vue live television service.  The Playstation Vue service can be watched on any Android, iOS, AppleTV, Chromecast, and of course PlayStation devices.  PS Vue is also available on Amazon's FireTv and offers a variety of packages starting from $29.99 to $60 a month.  There are multiple add-on packages available as well.
Cost:$30-$60+
Availability: All 50 US states
Notes: PlayStation Vue must be used at your home in order to access all channels.  Only select channels are available outside of your house.

YouTube TV
It may come as a surprise to some people, but it seems appropriate that Google would offer their own Live TV service.  After all, they do own YouTube which has the backbone to handle Live TV and of course they have the perfect platform to deliver it with the Chromecast.  Google just recently launched this service so unfortunately, it's only currently available in a few markets.  YouTube TV is $35 a month and offers 47+ channels to watch.
Cost: $35
Extras: ShowTime – $11, Fox Soccer Plus – $15
Availability: Limited but expanding- Chicago, Los Angeles, New York City, Philadelphia, San Francisco
Notes:  6 users can use the service, you can DVR as many shows as you want, Free Chromecast if you sign up soon, Includes YouTube red original content.
Click here to view YouTube TV's service offerings and to sign up for a free trial.
What we recommend to Chromecast Live TV
Since all services offer a free trial and allow you to Chromecast Live TV, we recommend that you start with SlingTV and see how it works for you.  If you don't like SlingTV, move on to the next service.  After all, the trials are all free.  Click here to learn more about SlingTV.  Please let us know in tine comments below if you have had any experiences with any of these services.  We'd love to know how well they worked to Chromecast Live TV.